Entering Items in County Fairs Next Year
Find this article at:
go.ncsu.edu/readext?716028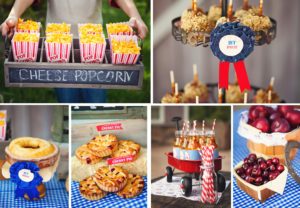 Many county fairs in the area have canceled this year, for good reason. I am sure many community members are disappointed they do not get to share their crafting, baking, and artistic efforts this year. Other members of the community might be disappointed because they enjoy touring the events each year and being a spectator of livestock shows. So let us not be discouraged about what is canceled this year, but look forward to getting involved with county agriculture fairs next year.
We have noticed here at the N.C. Cooperative Extension of Jackson County office, people have been home more this spring and summer due to the Stay at Home order and the Safer at Home order. And because people are home more we have been getting a lot of calls on gardening, food preservation, and other agriculture-related questions. This is a great thing. We love answering the community's questions! We know you are out there trying new things at home that maybe you did not have time to do before. Now is the time to show off your hard work.
You might not be familiar with the categories you can enter items in at the fair. Some of the categories include home food preservation (hot water bath, pickling, pressure canning and dehydrating), baking, textiles, photography, plants and flowers, pottery, woodworking, and baskets just to name a few. There is a little bit of everything.
You might also be wondering how your items get judged at the fair. If you are entering a canned food item that has been processed with a hot water bath or pressure canned, you must submit the tested recipe you used. Once the recipe has been reviewed the item is judged based on uniformity, color, and consistency. If it is entered at the mountain state fair, once the recipe is determined safe, those items are taste-tested by the judges.
When judging baked goods, the size, shape, crust, color, and moisture are all looked at. If the item is too pale or too brown, or has cracks the entry will not score well. Therefore, practice your recipes now so you have it perfected by next fair season. I am sure your family and friends will volunteer as judges.
If you enjoy sewing, maybe you want to enter a clothing item. Those items are judged on appearance, including color combination, neatness, originality, cleanliness, and texture combination. Workmanship is also judged which includes seams, hems, and finishes. I have a feeling "cloth masks" might be a category at next years' fairs.
When entering produce, pick the best items you have to enter. They should be free of defects like bruising or holes. They should have a rich color and be uniform. Although you might like that the tomato you grew is growing its own little baby tomato on its side, that will not score high when being judged.
I hope this helps you understand how items are judged at fairs and encourages you to enter items at all the local county fairs next year. Maybe you will even make some money if you win the coveted big blue ribbon!
Stay home, stay safe, and wear your mask.