National Nutrition Month
Find this article at:
go.ncsu.edu/readext?653380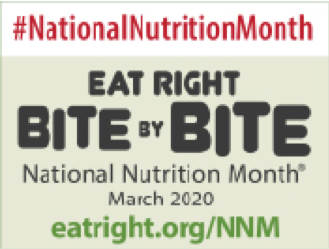 March is National Nutrition Month and this year's theme is Eat Right Bite by Bite. With all the popular fad diets that are going around it can be confusing on how to "Eat Right." It seems what is recommended is always changing. One year it is "do not eat egg yolks because of cholesterol" then the next year research is saying, "Well maybe dietary cholesterol does not affect blood cholesterol like we thought." Eating right means eating balanced and proportioned meals and that means eating a variety of foods from all the food groups (fruits, vegetables, protein, dairy, and grains.)
Here are some tips for how to eat a well-balanced diet: Eat breakfast, make half your plate fruits and vegetables, watch your portion sizes, drink more water, cook at home instead of eating out, read food labels, explore new foods and flavors, reduce added sugar, and fix healthy snacks.
Reading food labels is one of my favorites because a food label is going to tell you so much about the food you are about to eat. If you notice, food labels have changed recently. The number of calories a serving contains at the top is now larger and bold. Serving sizes have changed to what a person would typically eat. The best part, in my opinion, under carbohydrates, sugar is listed and then under sugar "added sugar" is listed. No more having to search for added sugar in the ingredients list on the product to find what name sugar might be listed as; dextrose, corn syrup, agave just to name a few. The total added sugars in the product will be listed on the package. Do not be concerned about adding up natural sugar of a product, just pay attention to added sugars. Women should limit added sugar to 6 teaspoons per day or 24 grams. Men should limit their sugar intake to 9 teaspoons of sugar per day or 36 grams. Limiting added sugar can help improve overall health and reduce your risk of certain diseases including, obesity, cardiovascular disease, diabetes, non-alcoholic fatty liver disease, as well as cognitive decline and cancers.
North Carolina Cooperative Extension, Jackson County Center offers programs to help educate the community on healthy eating. Programs include Med instead of Meds, Lifelong Improvements through Fitness Together (LIFT), SNAP-ed for school-aged kids, and Cook Smart Eat Smart. If you have a group that would like to schedule a program please contact Emily McClure, FCS agent at 828-586-4009. Also, be on the lookout for programs being offered to the public through our Facebook page or our website. Remember to Eat Right Bite by Bite every day, not just for National Nutrition Month in March.