Gardening Basics 101
Gardening Basics 101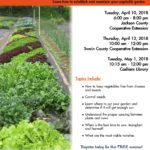 The Cooperative Extension Service will be holding a seminar on Gardening Basics 101. Learn more about site selection and preparation, proper soil and plant fertility needs, spacing, crop rotation, cultivars and the differences between cool and warm season vegetables. Finally, we will lightly discuss the most common disease, insect and weed problems, and their potential control options. For more information or to register for these free classes contact your local N.C. Cooperative Extension Center at 586-4009 in Sylva or 488-3848 in Bryson City or email clbreden@ncsu.edu.
The following Gardening seminars will be held in Swain and repeated in Jackson County.
Tuesday, April 10, 2018, at the N.C. Cooperative Extension, Jackson County Center on 538 Scotts Creek Rd. Sylva, N.C. in room 234 from 6–8 p.m.
Thursday, April 12, 2018, at the N.C. Cooperative Extension, Swain County Center on 60 Almond School Rd. Bryson City, N.C. in room 114 from 10–noon
Tuesday, May 1, 2018, at the Cashiers Library from 10:15 a.m.–noon