Jackson County 4-H Horse Bowl Team Wins First Place at District Competition
The newly formed Jackson County 4-H Horse Bowl Team competed at the District Competition on February 11th and took 1st place in the Junior Division. The four-member team will move on to compete at the State level on March 4th in Raleigh.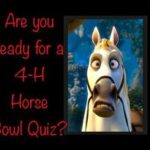 The Horse Bowl Contest is designed to offer an opportunity for youths interested in horses to display the knowledge they have gained in a competitive and friendly atmosphere. Additionally, it is designed to encourage youth and leaders to study and obtain a more thorough and complete knowledge of horses and related subject matter. Horse Bowl contestants listen to oral questions and press a buzzer to answer questions for their team.
For more information contact Heather Gordon, 4-H Agent, at 828-586-4009, heather_gordon@ncsu.edu or Stacy Adams, Horse Bowl Coach, at 336-657-1783 stacyadamslaw@gmail.com.