Winter Gardening Tips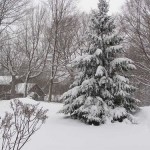 I'm dreaming of a white Christmas…. indeed this is one of my favorite songs just before the Christmas Holidays. What can I say; I grew up in Minnesota and so snow runs in my veins. Shoveling snow before school was a common occurrence for my younger brother and I as we joined our dad in shoveling the driveway. Afterwards mom would have a hot breakfast waiting for us as we peeled off our snowsuits, hats and mittens. Ice skating, making igloos and snow forts, sledding and playing king of the mountain were just a few of the many winter outdoor activities I experienced while growing up. Since snow is on my mind, writing about winter gardening tips seems appropriate for this time of year. Below are some tips to consider as winter progresses.
After the Holidays, plant your live Christmas tree as soon as possible. Do not leave the root ball exposed to freezing temperatures after removing the tree from the house.
Think about planting trees in the fall that are less likely to break from heavy snowfall such as red and white oak, red maple, flowering dogwood and redbud.
If you did not get all of your spring bulbs planted before the ground freezes, try and do so now. If your bulbs are healthy and have been properly stored in a cool place, they still have a chance of blooming if you get them planted by February.
Plant fruit trees, grape vines and brambles and consider pruning mature grape vines and blueberries when the buds begin to swell. Do not prune fruit trees until March, especially peaches.
Evergreen shrubs may be pruned now too. Cut back ornamental grasses, as well as liriope and mondo grass, before spring growth begins.
Yellow or dropping leaves on houseplants, may be caused by too much or too little water, limited sun or cold temperatures. Plants will recover if the problem is corrected.
Inspect houseplants for insect infestations such as spider mites, scales and whiteflies.
Check your supply of seeds before planning your seed orders. Seeds more than a couple of years old should probably be replaced.
Start your garden plan on paper as you browse the garden catalogs. This will help prevent ordering more than you have room to plant.
If the soil dries out enough to work, go ahead and prepare a spot for the late February planting of peas and kale.
If you are maintaining winter vegetables in a greenhouse or under plastic tunnels, remember that venting on sunny days will be important to prevent over-heating.
Use wood ashes in the garden areas sparingly. Ashes are alkaline and will raise the pH of the soil, so treat them like lime and do not apply around acid-loving plants. Remember to soil test. If the report calls for 40 lbs. of lime per 1000 square ft. then the equivalent amount of lime is about 80 lbs. per 1000 square ft.
Check your yard, garage or tool shed for garden products and equipment that should be stored indoors for the winter. Liquids should not be allowed to freeze. Pesticides should be stored locked, out of the reach of children, and in their original containers. Plastic sprayers and rubber and vinyl hoses should be stored empty, preferably indoors.
Winterize your lawn mower and clean garden tools with a wire brush and apply a light coat of oil to protect them from rusting. Sharpen edges of hoes and spades. Clean, readjust and sharpen the blades of pruning tools. Lightly sand handles and then apply a coat of linseed oil.
For more winter gardening tips contact your local Extension Center at 828 586 4009, 828 488 3848.
Was the information on this page helpful?
This page can also be accessed from:
go.ncsu.edu/readext?438684