Moles and Voles, Oh My!
Find this article at:
go.ncsu.edu/readext?428622
Woodland or Pine Vole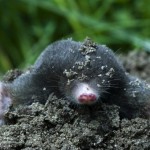 Lawn, landscape, or garden damage from wildlife pests is one of the most common calls that we receive at the Jackson and Swain County NC State Extension Service. Over the last several weeks more calls have been received about stink bugs, moles and voles, mice and squirrels. During the early fall critters are starting to think about getting ready for winter and two things are instinctive, habitat and food. Two of our usual suspects from Fall to Spring are moles and voles. While these two unwelcomed visitors can cause anxiety and a strong desire for immediate control, it is worth distinguishing which pest you have.
Voles eat roots from garden vegetables, bulbs, and bark. Residents of Jackson and Swain County primarily deal with pine and meadow voles. Meadow voles spend most of their time above ground while pine/woodland voles are more burrow dwelling and usually have an extensive subsurface trail system that is excavated about 1 to 2 inches deep. These burrows open to the surface and often connect to above-ground runways. These burrows are small since voles are the size of plump mice. Voles are in the Rodentia order of mammals and can be a serious outdoor pest, damaging the root system on many landscape and garden plants or even girdling trees when feeding on their bark. Vole management takes advantage of their tendency to avoid exposure in open spaces. Keep a vole prone area free of ground cover and pull the heavy mulch back from your trees by at least 3 feet. The best way to control a vole epidemic is to set large spring loaded mice traps baited with apple slices or peanut butter near the tunnels. Be sure to place a bucket over the trap so that the vole will be You can also discourage voles from invading your yard by keeping the grass mowed short and reducing the amount of thatch in the lawn. Another control method, if you like to walk and get exercise, simply put on your heavy boots and stomp on the ridge tunnels to flatten them.
more encouraged to take the bait under the cover. There are also poisons that can be used to kill voles but one must consider potential risks with pets, children, or non-target animals. As with all pesticides – the label is the law. Read the label in its entirety before using any vole poison products to avoid illegal usage and/or unintended harms.
Moles eat insects, worms, and other invertebrates living in your soil. Moles are not considered rodents. The tell-tale sign of moles is the visible ridges that are seen as a result of tunneling in the lawn. There is a tendency to try to control moles by applying grub killer to your lawn. Sometimes this isn't a recommended approach since moles eat more than just grubs. Getting rid of a mole problem on your property is more complicated than dealing with voles.
The star-nosed mole (Condylura cristata parva), found mostly in the mountains and coastal plains, is listed as a NC Special Concern Specie and is protected by law. The eastern mole (Scalopus aquaticus) and the hairy-tailed mole (Parascalops breweri) are under consideration for designation as pests. Currently the use of poison is not labeled for moles in North Carolina but if approved, this designation would allow the regulated use of pesticides to control these species of mole. Another control method, if you like to walk and get exercise, simply put on your heavy boots and stomp on the ridge tunnels to flatten them. In the meantime, trapping is the recommended avenue for mole control. If you read NC law 15A NCAC 10B .0106 WILDLIFE TAKEN FOR DEPREDATIONS, found on the NCDA website you will see that it states, "No permit is needed for the owner or lessee of a property to take wildlife while committing depredations on the property, however the manner of taking, disposition of dead wildlife and reporting requirements as described in this Rule still apply."  Be sure to fully read this law in order to trap moles in a legal manner.
For more information on wildlife pests, please contact Robert J. Hawk at Jackson Extension, 586-4009 or Swain Extension 488-3848 or email robert_hawk@ncsu.edu  Article written by George Place, Catawba Extension and Robert  Hawk, Jackson and Swain Extension with information from NC State and Cornell Extension Service.