Apple Season in Western North Carolina
Find this article at:
go.ncsu.edu/readext?317996
Have you noticed how crisp our mornings have become, the gorgeous October sky, and local apple orchards are open? Fall 2014 is here and Fall in North Carolina means apple season. The average U.S. consumer eats an estimated 16.4 pounds of fresh-market apples and 33.3 pounds of processed apples, for a total of 49.8 pounds of fresh apples and processed apple products annually. During the fall many calls come into the Cooperative Extension office concerning apples.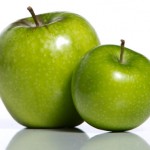 "How do I know which type apple will give me the desired outcome?"
So here is a list you may clip from the paper and use as a guide for apple selection.
• Red Delicious is the world's most widely planted apple. It has a thin bright red skin with a mildly flavored fine-grained white flesh. Excellent for eating fresh as a snack or in salads.
• Rome Beauty is the ultimate baking and cooking apple and yet it is also good for fresh eating. It is a very smooth red apple with a slightly juicy flesh. The flavor of this variety grows richer when baked in your favorite recipe.
• Golden Delicious is an apple with firm white flesh, which retains its shape and rich mellow flavor when baked or cooked. The skin is so tender that it does not require peeling for most recipes. This apple is one that will stay white longer when cut and therefore is great for salads.
• Stayman apples have a juicy crème-colored to yellowish flesh with a tart wine-like flavor. They hold up well in storage and are often used as cooking and cider apples as well for fresh snacks.
• Granny Smith apples have a mouthwatering tartness. They are distinguished by a bright green appearance, crisp bite and sour apple flavor. Flavor is pronounced when baked and the texture is known for holding up well.
• Gala apples are usually medium to smaller in size with a distinctive red and yellow striped heart-shaped appearance. They have a noticeably sweet flavor and aroma and are excellent for kids as a snack.
• Jonagold is a large newer variety with a rich full tangy sweet flavor. The color is an attractive orange-red with light striping over a yellow background. It is juicy and crunchy and is becoming one of the world's most preferred eating apples.
• Gingergold is a medium to large early maturing apple with a crème-colored flesh and mildly sweet flavor. Appearance is similar to a Golden Delicious with an orange blush.
• Fuji is a newer variety apple with exceptionally sweet flavor. It is becoming a favorite for both fresh eating and desserts. The appearance of this apple is yellow-green with red highlights but people recognize it not for the way it looks but how it tastes. Known for holding up well in storage.
• Crispin/Mutsu apples are light green to yellowish white in appearance. This juicy apple has a sweet, rich, full flavor. Its texture is firm and very dense. Crunchier and tarter than Golden Delicious.
• Goldrush apples have a unique rich spicy flavor with a firm texture. These apples hold up very well in storage.
• Honeycrisp apples are exceptionally crisp and juicy with a well-balanced flavor and good storage life.
• Empire is a McIntosh type apple with longer shelf life and better color and flavor. Aromatic and crisp with creamy white juicy flesh.
• Pink Lady is one of the newest apples on the market with a crisp sweet/tart flavor. This is a very attractive medium sized apple with a pink blush over yellow undertone.
(Apple varieties from North Carolina Department of Agriculture)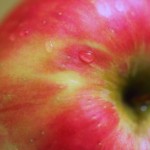 Why choose and apple? Apples are rich in pectin, high in potassium and low in sodium and fat-free. Apples help in three major health areas. An apple reduces the chance of cavities by cleaning the teeth and massaging the gums. Apples also aid constipation and diarrhea by helping to correct them. An apple is your tummy's best friend…its pectin and mild acids help aid digestion, and its bulk peps up the whole system. An average apple has about 85 calories and no cholesterol making it an ideal snack for those watching their weight. It is bulk producing so it satisfies your hunger while its natural sugars give you quick energy.
Apples 101 (Everything you always wanted to know about apples including making apple jelly and apple sauce) will be held at the Jackson County Extension Center from 9 a.m. until 1 p.m. on October 17, 2014. Cost will be $10.00 and space is limited. Please call the Jackson County Extension to register at 828 586 4009.