Caring for Aging Parents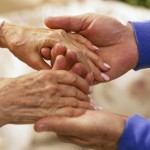 As I write this article, I am experiencing a new chapter in my life — a role reversal you might say. I have joined the ranks of caregivers, specifically adult children who are helping care for their aging parents. It is a different world.
The ones who changed our diapers, prepared our meals, and wiped away our tears are now the ones who rely on us to provide the same care. It is both a blessing and a challenge. Thousands of Americans are facing these same issues everyday. We are not alone.
Caregivers wear many hats. They may be a companion, entertainer, nurse, doctor, advocate, pharmacist, chauffeur, parent, and maid, among other roles. This can often be overwhelming, particularly if the caregiver has a job and a family of their own — the "sandwich generation". Adult children who live hours away from their parents become long-distance caregivers which offers another set of challenges. The physical and emotional needs of caregiving can take their toll in terms of high levels of stress, frustration, depression, and guilt.
Studies show that women caregivers are more likely to report symptoms of emotional stress than men. Researchers speculate this may be because women are more likely to put other relationships and activities on hold while caregiving.
On the other hand, there are many blessings of being an adult caregiver to your parent. For many, it is an opportunity to get closer to your parent and a way to give something back to them in return for their parents' earlier sacrifices on their behalf. Taking an active role in caregiving can reduce their worry about the quality of care parents would receive if left entirely to paid caregivers.
Even under the best circumstances, caregiving can test a person's ingenuity and patience, according to Dr. Lucy Bearon, Aging Specialist with N.C. Cooperative Extension. She suggests a few strategies for coping with caregiver stress, beginning with taking care of yourself.
It is easy to pour all your time and energy into taking care of others and forget to take care of yourself. Don't put off your doctors' appointments or neglect exercising and eating properly. If you put your health on the back burner, soon you won't be able to provide the care your parents need.
Another strategy Dr. Bearon encourages caregivers to implement is sharing the load. Find others to help out and to talk to. Don't be afraid to ask. Often other family members, friends, neighbors, and church family would welcome the chance to help but may not know what is needed. Let them know specific things you would find helpful, whether it is taking your car for an oil change or relieving you so that you can take a 30 minute walk.
Tap into community resources is another strategy important to positive caregiving. Learn about resources available to help family caregivers, including support groups, in-home services, respite care, adult day care, and individual and family counseling, often with fees adjusted for a client's ability to pay.
And finally, look on the bright side to improve your quality of life. Look for the humor in daily life and allow yourself to laugh. When you do get a break, do something you like, without feeling guilty. As the old gospel song says "Keep on the sunny side" and that will go a long way toward reducing the feelings of burdens and reveal the blessings of a difficult situation.
Written by Cheryl Beck, retired Family and Consumer Sciences Agent