Homework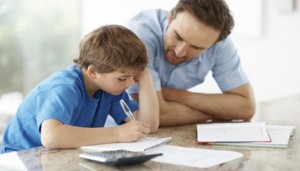 We are all teachers. Don't leave it all up to the adults who are in the classroom. Your interest in your children's education can spark their enthusiasm and lead them to understand that learning can be rewarding and is well worth the effort. Homework is an opportunity for children to learn and for families to be involved in their children's education. However, helping children with homework isn't always easy. This is a great time to look toward re-organizing schedules for semester two of the school year. Here are some tips for helping your children with their homework. This information comes from a North Carolina Cooperative Extension booklet called Helping Your Children Through School.
1  Show that you think education and homework are important
Set a regular time for homework every day
Make sure that your child has the papers, books, pencils and other things needed to do assignments.
Remove distractions. Turn off the TV and if you live in a small or noisy household, try having all family members take part in a quiet activity during homework time.
Set a good example. Let your child see you reading books and newspapers; writing reports, using math to balance your checkbook or doing other things that require thought and effort.
2  Monitor Assignments
Do you know what your child's homework assignments are? How long they should take? How the teacher wants you to be involved in them?
Do you see that your child starts and completes assignments?
Do you read the teacher's comments on assignments that are returned?
3  Provide Guidance
Help your child get organized. Encourage good study habits such as scheduling enough time for big assignments and making up practice tests. And, talk with your children about their homework assignments.
4  Talk with teachers to resolve problems
Meet with the teacher early in the year before any problems arise.
Set up a plan with the teacher in order to help your child solve homework problems. Then, follow up with the teacher and your child to make sure the plan is working.
Research shows clearly that children are more likely to succeed in learning when their families actively support them. When family members read with their children, talk with their teachers, participate in school or other learning activities and help them with homework, they give children a tremendous advantage.